Background
Hefty is the most envied man in Clint City. Not only is he so rich he doesn't know what to do with all his dough, but day and night he's surrounded by the most beautiful girls in the world. Of course there's no connection between the two, what people find so attractive about him is his err… very rich personality. If only his body was as in such good shape as his mind...
Missions
Still Fighting Fit: Inflict 150 Damages with Hefty
Advantages & Disadvantages
Advantages:
His power is 7, which is good.
His damage is 6, becoming 8 with fury, allowing for easy 2HKO.
His ability stops the opponent's bonus.
His bonus reduces 10 of your opponent's attack, making it easier to win rounds with him.
Disadvantages:
He's a 5 star, so he takes up a lot of room in your deck.
Trivia
Hefty is a take-off on lady's man and creator of Playboy magazine, Hugh Hefner.
In Hefty's level 5 artwork, the website on his laptop, "HOTtube", may be a possible take-off on the popular video sharing site, YouTube.
In Lois Ld's re-release (5/7/15), it's implied that Hefty might have been involved in a human trafficking ring, to use the women in his magazine.
Card Artwork
LV 4.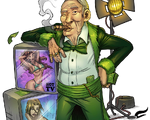 LV 5.
Full Artwork
Ad blocker interference detected!
Wikia is a free-to-use site that makes money from advertising. We have a modified experience for viewers using ad blockers

Wikia is not accessible if you've made further modifications. Remove the custom ad blocker rule(s) and the page will load as expected.