Background
Betrayed and disowned by his son Kazayan, Heitachi trained in the art of stick fighting until becoming a master of Bōjutsu. And having heard that Kazayan was in Clint City, Heitachi joined the Fang Pi Clang to become better still and challenge him to a fight to the bitter end.
Web comic
This card hasn't appeared in a web comic yet.
Missions
None at the moment.
Trivia
Heitachi is based off of Heihachi Mishima from the Tekken series. His son's name, Kazayan, is based off of Heihachi's son, Kazuya.
Another homage to the Tekken series is seen in Heitachi's last level artwork since his gloves are the exact same gloves that are worn by Heihachi's grandson Jin Kazama.
Advantages and Disadvantages of the card
Advantages:
His power is 8, which is good for a 4*.
His damage is 5, but becomes 7 when you fury with him, allowing you to 2HKO with some of the other members of the Fang Pi Clang.
His ability prevents his power from decreasing, which helps in fights against the All-Stars.
SOA doesn't really affect him.
The clan bonus increases his damage by 2, which helps you to achieve KO's a lot easier.
Disadvantages:
He is a 4*, so he takes up room in your deck.
He has competition from the other 4* in the Fang Pi Clang.
Tactics
Card Artwork
LV 4.
Full Artwork
LV 4.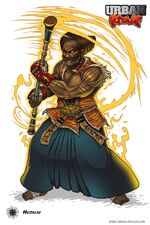 Useful links
Ad blocker interference detected!
Wikia is a free-to-use site that makes money from advertising. We have a modified experience for viewers using ad blockers

Wikia is not accessible if you've made further modifications. Remove the custom ad blocker rule(s) and the page will load as expected.