Background
Everyone knows how to swallow swords. Well, maybe not everyone but lots of people. And technically speaking anyone can have a blade pushed through them, although it generally ends in tears. But sticking knives into every part of his body and finishing the show in one piece is Igor's specialty. Please Don't try it at home!
Web comic
This card hasn't appeared in a web comic yet.
Missions
None at the moment.
Trivia
The Chinese character on his arm means 'water', which is shown in all of his levels.
Shakra used to be the Freaks' sword swallower before he left due to an argument with Ataoualpet, meaning that Igor may be Shakra's replacement.
In the John Sein art files, he is known as "Sabre."
Advantages and Disadvantages of the card
Advantages:
His abiliy is heal which goes really well with his bonus
His damage is which is really good for a Freaks 4*
He is fairly cheap to get dispite being Uncommon
Disadvantages:
He only gives 1 life after his ability is activates
He has Competition from 4* Like Bogdan, Grudj, Pyro, Wolfgang and Maciej
Tactics
Card Artwork
LV 4.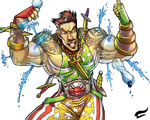 Full Artwork
LV 4.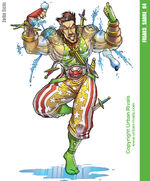 Useful links
Ad blocker interference detected!
Wikia is a free-to-use site that makes money from advertising. We have a modified experience for viewers using ad blockers

Wikia is not accessible if you've made further modifications. Remove the custom ad blocker rule(s) and the page will load as expected.