<format> La Junta</format>
       </data>
       <data source="ability">
           <label> Ability</label>
           <default>Unknown</default>
       </data>
       <data source="bonus">
           <label> Bonus</label>
           <default>Damage +2</default>
       </data>
       <data source="rarity">
           <label>Rarity</label>
           <default>Unknown</default>
           <format>Common</format>
       </data>
       <data source="gender">
           <label>Gender</label>
           <default>Unknown</default>
           <format> Female</format>
       </data>
   </group>
   <group>
       <header>4 Stars (

★★★★

)</header>
       <data source="level1">
           <label>Stats Lv 1</label>
           <format> 3  2 </format>
       </data>
       <data source="level2">
           <label>Stats Lv 2</label>
           <format> 4  4 </format>
       </data>
       <data source="level3">
           <label>Stats Lv 3</label>
           <format> 4  5 </format>
       </data>
       <data source="level4">
           <label>Stats Lv 4</label>
           <format> 5  6 (Gains Ability)</format>
       </data>
       <data source="level5">
           <label>Stats Lv 5</label>
           <format>    </format>
       </data>
   </group>
   <group>
       <header>Meta Info</header>
       <data source="released">
           <label>Released</label>
           <default>Unknown</default>
       </data>
       <data source="retired">
           <label>Retired</label>
       </data>
       <data source="artist">
           <label>Artist</label>
           <default>Unknown</default>
       </data>
   </group>

</infobox>
Background
In the winter months, practically everything is buried deep in snow in the Northern Mountains. As sole guardian of the Junta's ultra-secret base, Isatis has had to learn to fight in the snow, camouflage herself when the enemy is at hand, and to move around without leaving any tracks. The GHEIST might think they're alone in the Great North but Isatis is watching them…
Missions
Advantages & Disadvantages
Advantages:
Disadvantages:
Trivia
Isatis might be loosely based off of Sniper Wolf who is also a soldier who uses snow as camouflage for her attacks.
At first, fans mistook her for being a man, but physically Isatis is female. This was mostly a mistake by the English moderators.
She appears to be a spin off of Kusanagi from the popular anime series, Ghost in the Shell: Stand Alone Complex.
Card Artwork
LV 4.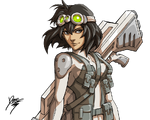 Full Artwork