Background
Young Joao had never felt good about himself until one night, after having drunk too much at a party, he realized he was actually the reincarnation of one of the United States' First Ladies. That's how, at the age of 19, he became Jackie. Those close to him didn't take well to the change, so he ditched them and now he only goes to Uppers' parties, where they treat him like the party queen.
Advantages & Disadvantages
Advantages:
Disadvantages:
Strategy
Trivia
The first lady that Jackie believes she is the reincarnation of is Jacqueline Kennedy Onassis.
She is the first, and one of the only two, transgendered characters in the game. The other is (debatably) Ashley from the All-Stars.
Some fans have mistakenly believed that this Joao is the same one from Ulu Watu, but he is not since Jackie's card came first.
Card Artwork
LV 4.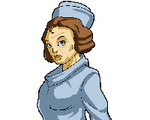 Full Artwork
External links
Ad blocker interference detected!
Wikia is a free-to-use site that makes money from advertising. We have a modified experience for viewers using ad blockers

Wikia is not accessible if you've made further modifications. Remove the custom ad blocker rule(s) and the page will load as expected.