Background
Discreet and efficient, Jeeves has worked for Zlatar for over 20 years. The perfect butler, Jeeves is just as comfortable permanently disposing of overly curious nuisances as he is looking after his boss's important guests.
Missions
Battle butler: Win 100 fights by finishing with a knock-out from Jeeves
Strategy
Quotes
Trivia
Jeeves is a stereotypical name for a fictional butler.
Jeeves is also the name of the butler mascot of Ask Jeeves.com search engine, now known as Ask.com.
Card Artwork
LV 5.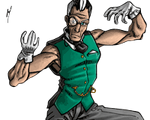 Full Artwork
Ad blocker interference detected!
Wikia is a free-to-use site that makes money from advertising. We have a modified experience for viewers using ad blockers

Wikia is not accessible if you've made further modifications. Remove the custom ad blocker rule(s) and the page will load as expected.