Background
Jeff learnt to rollerblade before he could walk. This speed addict met Gaia under the Californian sun and instantly fell in love with her. To spend more time by her side, he joins the Ulu Watu Clan and discovers a group of pretty cool young people who share his values.
Missions
Numar and Company: Win 40 rounds with Jeff (01/03/2013 - 28/04/2013)
Card Artwork
LV 1.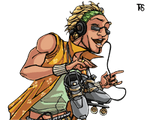 LV 2.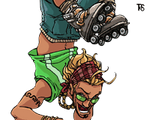 Full Artwork
Ad blocker interference detected!
Wikia is a free-to-use site that makes money from advertising. We have a modified experience for viewers using ad blockers

Wikia is not accessible if you've made further modifications. Remove the custom ad blocker rule(s) and the page will load as expected.