<format> All Stars</format>
       </data>
       <data source="ability">
           <label> Ability</label>
           <default>Unknown</default>
       </data>
       <data source="bonus">
           <label> Bonus</label>
           <default>-2 Opp. Power, Min. 1</default>
       </data>
       <data source="rarity">
           <label>Rarity</label>
           <default>Unknown</default>
           <format>Rare</format>
       </data>
       <data source="gender">
           <label>Gender</label>
           <default>Unknown</default>
           <format> Female</format>
       </data>
   </group>
   <group>
       <header>2 Stars (

★★

)</header>
       <data source="level1">
           <label>Stats Lv 1</label>
           <format> 3  1 </format>
       </data>
       <data source="level2">
           <label>Stats Lv 2</label>
           <format> 7  2 (Gains Ability)</format>
       </data>
       <data source="level3">
           <label>Stats Lv 3</label>
           <format>    </format>
       </data>
       <data source="level4">
           <label>Stats Lv 4</label>
           <format>    </format>
       </data>
       <data source="level5">
           <label>Stats Lv 5</label>
           <format>    </format>
       </data>
   </group>
   <group>
       <header>Meta Info</header>
       <data source="released">
           <label>Released</label>
           <default>Unknown</default>
       </data>
       <data source="retired">
           <label>Retired</label>
       </data>
       <data source="artist">
           <label>Artist</label>
           <default>Unknown</default>
       </data>
   </group>

</infobox>
Background
Since the "Western Burgers" restaurant chain decided to sponsor the Clint City Rodeo Championship, the professional wild bull tamers have become big names about town. And as the only woman taking part in the competition, Jessie is by far the most popular of the bunch.
Webcomic
Jessie first appeared in "Showdown at the Rodeo" when she was supposedly kidnapped shortly before she was supposed to be the pitcher for a baseball game between her clan and the Bangers. Not much is given on her personality, but she is involved in a love triangle with Eyrton (who's in love with her) and Enzo (who she's happily dating).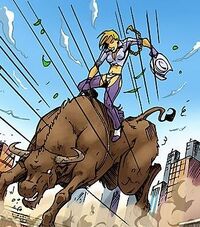 Missions
Queen of the Rodeo: Win 50 rounds with Jessie
Advantages and Disadvantages
Advantages:
Her base power is 7, which is very good for a 2*.
Her base damage is 2, but becomes 4 with fury, allowing you to 2HKO with other members of All-Stars.
Her ability gives you two life back after you've won with her.
Her ability helps to make a gap between you and your opponent.
The clan bonus takes away two power from your opponent, which helps in low-pill fights.
SoB doesn't bother her, since her base power is already high.
She is a 2*, so she makes room in your deck.
Disadvantages:
Her base damage is 2, which is low, though normal for a 2*.
SoA takes away her ability, which lessens her value.
She is a rare, so she is hard to obtain in packs.
She has competition from the other 2* in All-Stars.
Tactics
Trivia
Jessie's name could be based off of Jessie the Yoldeling Cowgirl from the Toy Story series.
Below is a bunch of concept scetches that the artist did:

She and fellow All Star, Randy, (who was released in the same cycle as her), were the first cards drawn by John Sein.
In the John Sein art files, Jessie is called Jeena (which is the name of the Roots member of the same name).
In Sarah's bio, it is mentioned that Jessie is one of her ancestors.
Card Artwork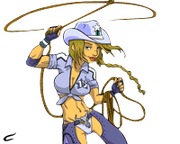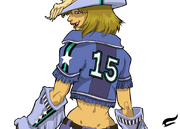 Full Artwork
Useful links