Background
Authentic and true Druids are becoming more and more of a rarity. Their knowledge is gradually being lost and the ingredients they use to concoct their potions are becoming harder and harder to find. Fortunately, a new generation of modern Druids has just arrived on the scene, like Jeto, who doesn't think twice about inventing new potions from what he finds on the street. It doesn't always work but the results are usually pretty funny.
Missions
Searching for ingredients: Inflict 50 Damages with Jeto (21/11/2014 - 25/01/2015)
Advantages & Disadvantages
Advantages:
Disadvantages:
Trivia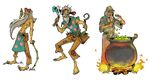 Full artwork with an unused 3rd level
Card Artwork
Full Artwork
Ad blocker interference detected!
Wikia is a free-to-use site that makes money from advertising. We have a modified experience for viewers using ad blockers

Wikia is not accessible if you've made further modifications. Remove the custom ad blocker rule(s) and the page will load as expected.