Background
Sergeant Kamakura had always found it hard to get into his uniform. It has to be said, sushi and donuts are not a winning combination! But all that changed when he decided to turn his weight to his advantage and become a Sumo wrestler. Transferred to Clint City by corrupt superiors, he's now decided to join the Sentinel and fight for justice belly first!!
Advantages & Disadvantages
Advantages:
Disadvantages:
Trivia
According to a so-called "leak", Kamakura was supposed to be a legendary card named Lenny. Whether this leak was real or not, has never been confirmed.
Kamakura's name comes from the famous Amida Buddha statue in Kamakura, Japan. It's a play since he's fat like the typical Buddha statue.
He bears a slight resemblance to E. Honda from the Street Fighter series in his third and fourth level artwork.
Card Artwork
LV 4.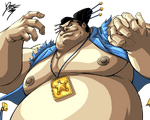 Full Artwork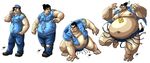 External links
Ad blocker interference detected!
Wikia is a free-to-use site that makes money from advertising. We have a modified experience for viewers using ad blockers

Wikia is not accessible if you've made further modifications. Remove the custom ad blocker rule(s) and the page will load as expected.