Background
Kawan's house was so full of collectibles that he had to sleep in the street. One night, the fatally wounded superhero, CosplayMan, woke him up and told him about his sacred mission to punish all the scum of Clint City in the name of all the small screen superheroes. For Kawan, the adventure's just begun!
Missions
None
Advantages & Disadvantages
Advantages:
His damage is 7, which can become 9 with fury, which is great.
His bonus adds 8 attack, making it easier to win rounds with him.
Disadvantages:
He has no ability to help him.
His power is 6 which is somewhat low.
He's a 4* so he takes up some room in your deck.
Strategy
Trivia
Kawan's outfits each come from a different anime: (level 2) Ultraman, (level 3) Unit 01 of Evangelion with Grendizer and (level 4) Gundam.
Coincidentally, "kawan" means friend in Bahasa Melayu.
Card Artwork
LV 4.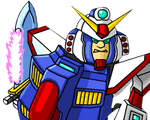 Full Artwork
Ad blocker interference detected!
Wikia is a free-to-use site that makes money from advertising. We have a modified experience for viewers using ad blockers

Wikia is not accessible if you've made further modifications. Remove the custom ad blocker rule(s) and the page will load as expected.