Background
Disciple of the God Griffonmor , Kenny is not like the other members of Nightmare. Ielena only accepted him in the clan because she hopes to discover the secret of the sacred fire... The secret of this destructive force is known by just one of Clint City's families...
Missions
Advantages & Disadvantages
Advantages:
His ability gives you 2 life per damage inflicted, so without fury you can get 6 life back, and with fury you can get 10.
His bonus stops the bonus of your opponent, which is useful and helps secure his ability.
Disadvantages:
His power of 6 is low.
He's four stars so he takes up a bit of room in your deck.
Trivia
Kenny's appearance in the first two level pics are loosely based off famous fictional boy, Harry Potter. Griffonmor is a spoof on Gryffindor, the house Harry Potter is in.
Many players claimed to have joined the game after seeing a banner with him on it.
He also makes a cameo appearance in the web comics. He can be seen leading the zombie kids into battle against Chloe, Havok, and Klaus.
The reason he became CR in the storyline is that Nightmare was over-using his power to the point that it's running out and he had to leave to recover his powers. Many players speculate he actually became Collector because the Harry Potter movies came to an end.
He is the first Non-Soleil Nightmare to become Cr.
When Kenny being Cr was announced, fans wrote on his comments board the line 'Oh my God, they Cr'ed Kenny! You bastard!' referencing the line 'Oh my God, they killed Kenny! You bastard!' from the show South Park.
Card Artwork
LV 4.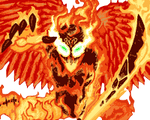 Full Artwork
External links
Ad blocker interference detected!
Wikia is a free-to-use site that makes money from advertising. We have a modified experience for viewers using ad blockers

Wikia is not accessible if you've made further modifications. Remove the custom ad blocker rule(s) and the page will load as expected.