Background
After a horrific dental accident Kersten was reduced to little more than a human jigsaw puzzle with lots of missing pieces. Secretly rehabilitated by Dr Saw, who "repaired" her with Vryer's assistance, she's now devoted herself body and soul to the GHEIST cause. Some say there's nothing human left of her but they don't know her terrible secret...
Webcomic
This card hasn't appeared in an Urban Rivals web comic yet.
Missions
None at the moment.
Advantages and Disadvantages
Advantages:
She has a very good 6 damage, allowing to 2HKO with other GHEIST.
Her ability is poison 1, with a low min of 1.
Her bonus stops the opponent's ability, which can be very useful.
Disadvantages:
Her power is 6, which is a bit low.
She's a 4 star, so she takes up quite a bit of room in your deck.
Trivia
Card Artwork
LV 4.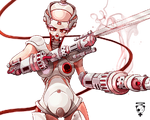 Full Artwork
Ad blocker interference detected!
Wikia is a free-to-use site that makes money from advertising. We have a modified experience for viewers using ad blockers

Wikia is not accessible if you've made further modifications. Remove the custom ad blocker rule(s) and the page will load as expected.