Background
Kiki was still a young primate when he was wrenched from his mother's furry hands and taken out of the tropical rainforest. He was subjected to cruel government experiments for several months before being freed by a Roots commando opposed to animal experiments. Despite being traumatized by scientists, Kiki has become a symbol of hope to the clan.
Involvement
Strategy
Quotes
Trivia
Kiki's bio seems to be a parody of the Silver Spring Monkeys, a group of monkeys who were subjected to government experiments, but were soon found and freed.
When the non Cr Kiki was released, they called this card 'Kiki 2004' because it was released in 2004.
He, DJ Korr Cr, Cortez and Uchtul are the only four cards with max stats in their max levels.
Fan art:
Card Artwork
LV 5.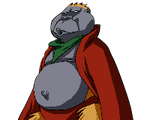 Full Artwork
External links
Ad blocker interference detected!
Wikia is a free-to-use site that makes money from advertising. We have a modified experience for viewers using ad blockers

Wikia is not accessible if you've made further modifications. Remove the custom ad blocker rule(s) and the page will load as expected.