Background
As an obese teenager, Kirk was too big for just one surf board, so he taught himself how to surf on two boards and in doing so developed a technique all of his own. Years later and back to a normal weight, he still surfs the waves on two boards…
Missions
In the name of the Aquanis: Block 50 damage with Kirk (17/01/2014 - 23/03/2014)
Advantages & Disadvantages
Advantages:
Disadvantages:
Trivia
His final form appearance somewhat resembles Poo from the Nintendo game Earthbound. Like Kirk, Poo is on a special diet, yet his is not to lose weight, but is a part of his martial arts training.
Card Artwork
LV 3.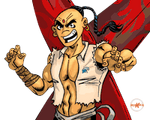 Full Artwork
LV 1.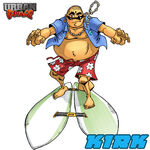 Ad blocker interference detected!
Wikia is a free-to-use site that makes money from advertising. We have a modified experience for viewers using ad blockers

Wikia is not accessible if you've made further modifications. Remove the custom ad blocker rule(s) and the page will load as expected.