Background
The most striking and fearsome panther of the zoo, Kreen wakes up in the mind of a woman after the meteorite's crash landing. Completed devoted to Ongh, whom she trusts implicitly, she personally takes care of all the most difficult missions for him.
Advantages & Disadvantages
Advantages:
Disadvantages:
Trivia
She is the first Collector from the Jungo. In her reparture storyline, it is said she left to perform a secret, unnamed mission for her leader.
Card Artwork
LV 3.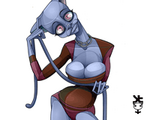 Full Artwork
Ad blocker interference detected!
Wikia is a free-to-use site that makes money from advertising. We have a modified experience for viewers using ad blockers

Wikia is not accessible if you've made further modifications. Remove the custom ad blocker rule(s) and the page will load as expected.