Background
Captured by Oflgn in the heart of the forest of electric trees and then given to Dregn, Krung is an unusually ferocious wild animal. And after minimal training, so as not to rob him of his killer instincts, he has now been released onto the streets of Clint City…
Missions
Fighting Dog: Win 75 Round with Krung
Advantages & Disadvantages
Advantages:
Disadvantages:
Trivia
His first level form is based off the Thanators from the film Avatar.
In the John Sein artfiles, he is addressed as Vortex Beast.
Card Artwork
LV 4.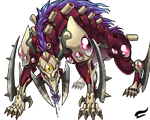 Full Artwork
Ad blocker interference detected!
Wikia is a free-to-use site that makes money from advertising. We have a modified experience for viewers using ad blockers

Wikia is not accessible if you've made further modifications. Remove the custom ad blocker rule(s) and the page will load as expected.