Background
Laetitia would love to be a star! But to be a star you can't be angry at everyone, but to write great rap lyrics you need to be angry, so what's the answer? Her big brother Bodenpower makes her understand that she doesn't want to be famous and that fame is only good for the Uppers. Now she's properly pissed!
Web comic
This card hasn't appeared in a web comic yet.
Missions
None at the moment.
Advantages and Disadvantages
Advantages:
Her base damage is 6, which is good for a 4*.
Her ability copies the power of an opposing card, meaning she could have up to a power of 8.
The clan bonus gives her an extra power of 2.
Because of her ability and bonus, her power will almost always be higher than your opponent's.
SoA doesn't really bother her, since she can rely on her bonus to increase her power.
Disadvantages:
Her base power is 4, which is low for a 4*.
Her ability means she could end up having a power that is lower than her base power.
She is weak against cards that reduce her power.
She is weak against SOB, since she cannot increase her power.
Her main weakness are all-stops, since she must stick with her low power of 4.
She is a 4*, so she takes up room in your deck.
She has competition from the other 4* in Bangers.
Tactics
Trivia
She is based on Diam, a French rapper.
Despite being Bodenpower's younger sister, she's of a different skin color (Laetitia's white while Bodenpower's black). It's greatly implied that Laetitia or Bodenpower is adopted, a stepsibling, or is sister/brother by title.
Card Artwork
LV 4.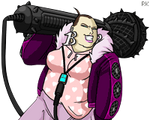 Full Artwork
Useful links