Background
Lao has arrived at the foot of the Golden Mountain Monastery. Weary from his long journey on foot, he is welcomed by Lost Hog in person. The two men then stand face to face, not moving or speaking for a whole year. After this epic battle of wills, Lost Hog finally breaks the silence and asks Lao if he wants to join the Fang-Pi Clang.
Advantages & Disadvantages
Advantages:
Disadvantages:
Strategy
Trivia
Lao's bio comes from Biohidharma, the founder of Shaolin Kung Fu. Bodhidharma came to the Xiaolin Monastery(which the Golden Mountain Monastery is based off of) and a wall was blocking him from the entrance. He stared at the wall for 9 long years, until he made a hole in the wall with his stare. He then left a chest, with 2 prizes in it: a book called 'Marrow Cleansing Classic' and another called 'Muscle Tendon Change Classic'. The monks of the Xiaolin Monastery took the 2nd book and learned their Kung Fu.
He is based off of the Chinese Communist leader, Mao Zedong. In his final form, he even holds one of the famous Red Books in his hands.
Card Artwork
LV 5.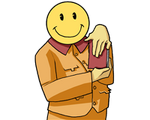 Full Artwork
External links
Ad blocker interference detected!
Wikia is a free-to-use site that makes money from advertising. We have a modified experience for viewers using ad blockers

Wikia is not accessible if you've made further modifications. Remove the custom ad blocker rule(s) and the page will load as expected.