<format> Sentinel</format>
       </data>
       <data source="ability">
           <label> Ability</label>
           <default>Unknown</default>
       </data>
       <data source="bonus">
           <label> Bonus</label>
           <default>+8 Attack</default>
       </data>
       <data source="rarity">
           <label>Rarity</label>
           <default>Unknown</default>
           <format>Uncommon</format>
       </data>
       <data source="gender">
           <label>Gender</label>
           <default>Unknown</default>
           <format> Female</format>
       </data>
   </group>
   <group>
       <header>2 Stars (

★★

)</header>
       <data source="level1">
           <label>Stats Lv 1</label>
           <format> 1  1 </format>
       </data>
       <data source="level2">
           <label>Stats Lv 2</label>
           <format> 8  2 (Gains Ability)</format>
       </data>
       <data source="level3">
           <label>Stats Lv 3</label>
           <format>    </format>
       </data>
       <data source="level4">
           <label>Stats Lv 4</label>
           <format>    </format>
       </data>
       <data source="level5">
           <label>Stats Lv 5</label>
           <format>    </format>
       </data>
   </group>
   <group>
       <header>Meta Info</header>
       <data source="released">
           <label>Released</label>
           <default>Unknown</default>
       </data>
       <data source="retired">
           <label>Retired</label>
       </data>
       <data source="artist">
           <label>Artist</label>
           <default>Unknown</default>
       </data>
   </group>

</infobox>
Background
All the Sentinel used to make fun of little Lindsay "Legs" Lehane from the bicycle patrol team, with her frail and delicate frame perpetually perched on top of a "double-pedal" bicycle of her own invention. But after having used this unusual vehicle for years, Lehane has become a warrior to be reckoned with. Even though in her heart of hearts she remains the shy young girl who's in love with Josh.
Advantages & Disadvantages
Advantages:
Her base power is 8, which is very good for a 2*.
Her ability cancels out an opposing card's bonus, which fights with her much easier.
She is strong against SOA, since she can still rely on her bonus.
She is also strong against SOB, since she can rely on her ability to cancel an opponent's bonus.
The clan bonus gives her an extra attack of 8, which helps in low-pill fights.
She is a 2*, so she helps to make room in your deck for more powerful cards.
Disadvantages:
Her base damage is two, which is normal for a 2*.
Her ability does nothing against cards with the ability, Protection: Bonus.
She has competition from the other 2* in Sentinel.
Strategy
Trivia
Lehane's name sounds like the word, "lane" or as in bike lane.
Her name comes from Dennis Lehane, a famous American author of crime books. The main characters of his novels are usually cops.
Card Artwork
LV 1.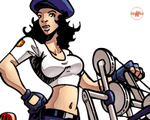 LV 2.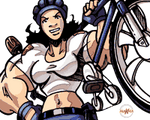 Full Artwork