Background
International star, Liu, is the face of the advertisements for the ChocoMuscle chocolate bar ("The bar that hits the spot"). She is contacted in the utmost secrecy by Eyrton who opens her eyes to the damage caused by snacking between meals. So revolted by what she hears, she terminates her contact with the multinational and joins the All-Stars.
Web comic
This card hasn't appeared in a web comic yet.
Missions
None at the moment.
Trivia
Since Liu and her fellow All Star clanmate, Kang, came out on the same week, their names could be a take off on Liu Kang, a character from Mortal Kombat.
Advantages and Disadvantages of the card
Advantages:
Disadvantages:
Tactics
Card Artwork
LV 4.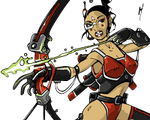 Full Artwork
LV 4.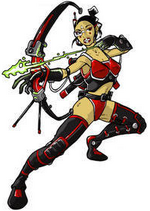 Useful links