Background
Lizzy has always had a lot of pent-up rage in her so it was no surprise that she turned to the more extreme types of rock. She started off as a Malmoth fan but very quickly found his music sissy and now prefers the sound of musical instruments being smashed over heads. In fact, you come and listen to her at the Red One Motel, but chances are you can never leave...
Web comic
This card hasn't appeared in a web comic yet.
Missions
None at the moment.
Advantages and Disadvantages
Advantages:
Disadvantages:
Tactics
Trivia
Card Artwork
LV 5.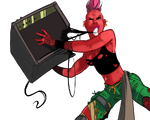 Full Artwork
Useful links
Ad blocker interference detected!
Wikia is a free-to-use site that makes money from advertising. We have a modified experience for viewers using ad blockers

Wikia is not accessible if you've made further modifications. Remove the custom ad blocker rule(s) and the page will load as expected.