Background
Skinny and untalented, Loma Noju's future in rugby didn't look bright until he met Vryer. The GHEIST scientist used the opportunity to test some of his "experimental" products. As the new star of Clint United's rugby squad Loma Noju doesn't regret a thing, although he sometimes he wishes children weren't so scared of him.
Web comic
This card hasn't appeared in a web comic yet.
Missions
None at the moment.
Trivia
Loma Noju is apparently modeled after the New Zealand rugby star, Jonah Lomu.
Advantages and Disadvantages of the card
Advantages:
Disadvantages:
Tactics
Card Artwork
LV 4.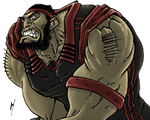 Full Artwork
LV 4.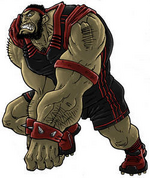 Useful links