Background
The All Stars have always looked upon Lucia as a second-rate athlete. For them, beach volleyball just about falls into the category of a fun activity but it's certainly not a sport. But Lucia's not bothered as she'd never agree to team up with the athletes. Leave the sunny beaches and trade in her bikini for sportswear? Get outta here!!!
Advantages & Disadvantages
Advantages:
Disadvantages:
Trivia
From her 2nd level artwork to the final form, she shares a resemblance with the Amazoness Quartet from the Sailor Moon Series, since they have spheres of energy just like Lucia.
Card Artwork
LV 1.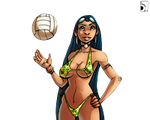 LV 2.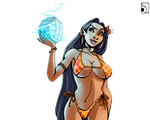 Full Artwork
Ad blocker interference detected!
Wikia is a free-to-use site that makes money from advertising. We have a modified experience for viewers using ad blockers

Wikia is not accessible if you've made further modifications. Remove the custom ad blocker rule(s) and the page will load as expected.