Background
Devoted assistant to Toro since he arrived at the Clint City Cell, Ludmilla has seen her power within the GHEIST increase as her boss has made his way up through the ranks. Today Ludmilla believes herself to be the most important woman in the clan…a real display of modesty.
Webcomic
Ludmilla appeared as one of the GHEIST who came to get Sigmund's capsule in the comic, Assault Under Clint River, along with other members.
She also has a small role in 50 Shades of GHEIST in her first level form where she, Gork and Methane start a fight at the Hellfire Club to draw in Lois Ld, Once she takes the bait, they bring in their latest member, ARN 2000, who starts thrashing her until Vixen cuts the source of ARN 2000's power and the two Pussycats make short work of the other GHEIST members.
Missions
None at the moment.
Advantages and Disadvantages of the card
Advantages:
Her base power is 6, which is good for a 2*.
Her ability takes away two life each turn, after you've won with her.
She is a 2*, so she makes room in your deck.
She is a common and is quite cheap to get in a pack or buy.
The clan bonus cancels out an opposing card's ability, which makes fights a lot easier.
Disadvantages:
Her base damage is 2, which is low, though normal for a 2*.
The minimum for her ability is four, which is high.
She has competition from the other 2* in GHEIST.
Tactics
She needs to be used early in a match to get the most out of her ability.
Trivia
Ludmila is a female given name of Slavic origin and consists of two elements: lud ("people") and mila ("dear, love").
Many fans say she looks like a Dominatrix.
Card Artwork
Full Artwork
From left to right LV 1 and LV 2.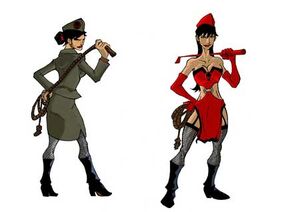 Usefull links