Background
Hired by the Zlatar Space Corporation, Ludwig finds himself in the driving seat of the company's first space shuttle. But just after lift-off, he suddenly realizes that in order to reduce the budget, Zlatar decided against protecting the space shuttle from cosmic rays. After all, there's no real proof they cause genetic mutations...
Missions
The Stuff of Heroes: Win 150 rounds with Ludwig
Advantages & Disadvantages
Advantages:
Disadvantages:
Trivia
Ludwig's bio is similiar to the Fantastic Four, who gained superpowers after their space shuttle was hit by radiation.
Card Artwork
Full Artwork
LV 1.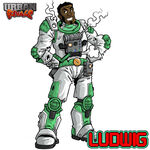 Ad blocker interference detected!
Wikia is a free-to-use site that makes money from advertising. We have a modified experience for viewers using ad blockers

Wikia is not accessible if you've made further modifications. Remove the custom ad blocker rule(s) and the page will load as expected.