Background
Lead dancer of the Clint City opera, one day Maamoon disappears without a trace only to reappear several months later perched on the highest trapeze of the Freaks Circus. As she refuses to speak or come down, no one knows what exactly happened to her. But not being one to worry about such things, Boris seizes the opportunity and adds the mysterious Maamoon to the circus' list of attractions.
Web comic
This card hasn't appeared in a web comic yet.
Missions
None at the moment.
Advantages and Disadvantages of the card
Advantages:
Disadvantages:
Tactics
Trivia
Her name is a take-off of 'mamoon', which is Japanese. In many video games, it is used as a spell to 'silence' enemies.
Card Artwork
LV 4.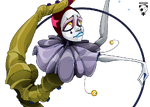 Full Artwork
LV 1.

Useful links
Ad blocker interference detected!
Wikia is a free-to-use site that makes money from advertising. We have a modified experience for viewers using ad blockers

Wikia is not accessible if you've made further modifications. Remove the custom ad blocker rule(s) and the page will load as expected.