Background
To fight crime in Clint City you need to be super fit. So to ensure his troops are in tip top condition, Copper has recruited Malia, an ex-commando turned elite fitness instructor. Will she manage to turn Skiner into an athlete and help Rick shed his extra pounds?
Advantages & Disadvantages
Advantages:
Her base damage is 6, which is good for a 4*.
Her ability gives you three life back if her ability is stopped, which makes her good to have when facing GHEIST or Roots.
Her ability can help to widen the gap between you and your opponent.
The clan bonus gives her an extra 8 attack, which helps in low-pill fights.
Disadvantages:
Her base power is 6, which is low for a 4*.
Her main weakness is SoB, since she can't increase her attack, meaning she'll have to rely on her base power.
Her ability only works if it stopped, which makes her predictable.
She is a 4*, so she takes up room in your deck.
She has competition from the other 4* in Sentinel.
Trivia
Card Artwork
LV 4.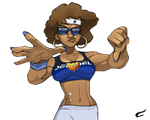 Full Artwork
Ad blocker interference detected!
Wikia is a free-to-use site that makes money from advertising. We have a modified experience for viewers using ad blockers

Wikia is not accessible if you've made further modifications. Remove the custom ad blocker rule(s) and the page will load as expected.