Background
The other members of death metal band "TieKnoTt" thought Malmoth was too evil and fired him, depriving him of his role as lead-guitarist and his reason for living. Since losing the opportunity to spew out his riffs on the front row, Malmoth has been real sad. He joins the Junkz so he can unwind by hitting people to DJ Korr's beat.
Missions
Advantages & Disadvantages
Advantages:
Disadvantages:
Trivia
Malmoth's appearances in each level is based off of different members of famous metal bands.
Lv 1: Gene Simmons of Kiss
Lv 2: Marilyn Manson
Lv 3: Jonathan Davis of KoRn
Lv 4: Sid Wilson of Slipknot
Fan Art.
The name of his former band is a parody of Nu-metal band, Slipknot.
Card Artwork
LV 4.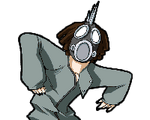 Full Artwork
External links
Ad blocker interference detected!
Wikia is a free-to-use site that makes money from advertising. We have a modified experience for viewers using ad blockers

Wikia is not accessible if you've made further modifications. Remove the custom ad blocker rule(s) and the page will load as expected.