<format> Rescue</format>
       </data>
       <data source="ability">
           <label> Ability</label>
           <default>Unknown</default>
       </data>
       <data source="bonus">
           <label> Bonus</label>
           <default>Support: Attack +3</default>
       </data>
       <data source="rarity">
           <label>Rarity</label>
           <default>Unknown</default>
           <format>Rare</format>
       </data>
       <data source="gender">
           <label>Gender</label>
           <default>Unknown</default>
           <format> Male</format>
       </data>
   </group>
   <group>
       <header>5 Stars (

★★★★★

)</header>
       <data source="level1">
           <label>Stats Lv 1</label>
           <format>    </format>
       </data>
       <data source="level2">
           <label>Stats Lv 2</label>
           <format> 1  3 </format>
       </data>
       <data source="level3">
           <label>Stats Lv 3</label>
           <format> 2  3 </format>
       </data>
       <data source="level4">
           <label>Stats Lv 4</label>
           <format> 4  3 </format>
       </data>
       <data source="level5">
           <label>Stats Lv 5</label>
           <format> 5  7 (Gains Ability)</format>
       </data>
   </group>
   <group>
       <header>Meta Info</header>
       <data source="released">
           <label>Released</label>
           <default>Unknown</default>
       </data>
       <data source="retired">
           <label>Retired</label>
       </data>
       <data source="artist">
           <label>Artist</label>
           <default>Unknown</default>
       </data>
   </group>

</infobox>
Background
His brother Larry is at the rear of the stretcher giving orders, which Marco, out in front, duly obeys. His job is simple. He carries the stretcher and gives a good kicking to anyone who gets in their way. And because his reputation precedes him, nowadays not many people make the mistake of crossing his path.
Involvement
Strategy
Quotes
Trivia
Marco and Larry might be a take on Mario and Luigi from the Super Mario Bros video game series (taken that Marco dresses in red and blue and Larry in green and blue).
If you take both Marco Cr and Larry (with neither of them having evolved yet) and put them side-by-side, you can see that the stretcher in both their pictures connect on the small artwork (the middle part of the stretcher is removed).

When he and Veenyle went Cr, the background was changed in their honor.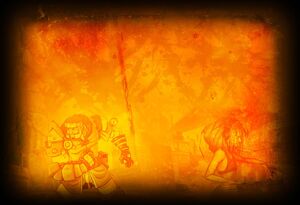 His artwork at lvl 4 was the artwork thought for lvl 5, because his armor is more destructive, but they changed it because at lvl 5 he seems more aggressive.
Card Artwork
Full Artwork
External links