Background
Four time gymnastics world champion, Marina has had many offers from clans and considered them all for a long time before choosing the All Stars. This elastic woman needs no weapon as she uses her body as a fighting tool. Encouraged by Alexei who immediately saw her potential, she quickly became a key member of the Clan.
Web comic
This card hasn't appeared in a web comic yet.
Missions
Unrivaled Agility: Block 60 damage with Marina.
Trivia
She may be based off of Marina Lobatch, who is the youngest Olympic Champion in rhythmic gymnastics with 18 years, 3 months and 6 days (her success was during 1988 Seoul Olympics).
Advantages and Disadvantages of the card
Advantages:
Disadvantages:
Tactics
Card Artwork
LV 4.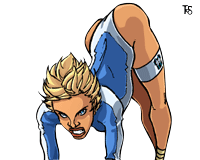 Full Artwork
LV 4.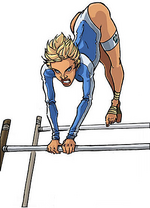 Useful links