Background
Masamu could be a very happy mechanic: after years of dealing with badly shaven, foul-smelling mercenaries, he finally landed himself a job with La Junta. Unfortunately for him, his job is to maintain Chiro's armor and given her combat style, he's not about to get a holiday any day soon...
Involvement
Strategy
Quotes
Trivia
Both him and his fellow Junta, Chiro, names are a parody on cyberpunk anime artist, Shirow Masamune. Since they were released on the same day, both have a machinery theme and if you put their names together (Chiro Masamu), it makes sense.
Card Artwork
Full Artwork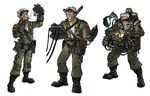 External links
Ad blocker interference detected!
Wikia is a free-to-use site that makes money from advertising. We have a modified experience for viewers using ad blockers

Wikia is not accessible if you've made further modifications. Remove the custom ad blocker rule(s) and the page will load as expected.