Background
Having just finished a sell-out tour with his band, the Windows, Matthew decided to quit the music business to devote himself to meditation and philosophy. After 2 long years, spent alone in the woods, he finally got back on the road to spread the good news that pillz and love are the answer...
Involvement
Strategy
Quotes
Trivia
Matthew's former band is a parody on the band, The Doors.
Matthew's appearance is based off a young Bob Dylan.
Card Artwork
LV 4.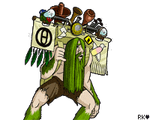 Full Artwork
Ad blocker interference detected!
Wikia is a free-to-use site that makes money from advertising. We have a modified experience for viewers using ad blockers

Wikia is not accessible if you've made further modifications. Remove the custom ad blocker rule(s) and the page will load as expected.