<format> Sentinel</format>
       </data>
       <data source="ability">
           <label> Ability</label>
           <default>Unknown</default>
       </data>
       <data source="bonus">
           <label> Bonus</label>
           <default>+8 Attack</default>
       </data>
       <data source="rarity">
           <label>Rarity</label>
           <default>Unknown</default>
           <format>Common, Collector</format>
       </data>
       <data source="gender">
           <label>Gender</label>
           <default>Unknown</default>
           <format> Female</format>
       </data>
   </group>
   <group>
       <header>3 Stars (

★★★

)</header>
       <data source="level1">
           <label>Stats Lv 1</label>
           <format> 1  1 </format>
       </data>
       <data source="level2">
           <label>Stats Lv 2</label>
           <format> 2  3 </format>
       </data>
       <data source="level3">
           <label>Stats Lv 3</label>
           <format> 3  4 </format>
       </data>
       <data source="level4">
           <label>Stats Lv 4</label>
           <format>    </format>
       </data>
       <data source="level5">
           <label>Stats Lv 5</label>
           <format>    </format>
       </data>
   </group>
   <group>
       <header>Meta Info</header>
       <data source="released">
           <label>Released</label>
           <default>Unknown</default>
       </data>
       <data source="retired">
           <label>Retired</label>
       </data>
       <data source="artist">
           <label>Artist</label>
           <default>Unknown</default>
       </data>
   </group>

</infobox>
Background
Melissa discovered the hell that is the Clint City traffic when driving a town bus. Since then, she has joined Sentinel where she has fashioned her own remarkable sonar weapons which enable her to bring order to every crossroads in the town.
Trivia
Melissa was sent to outside of Clint City by Copper to keep an eye on Sigmund when he went CR.
Currently she's one of two non-Soleil Cr in the Sentinel, along with Copper Cr.
Card Artwork
LV 1.
LV 2.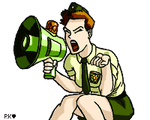 LV 3.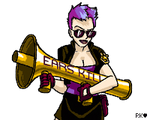 Full Artwork