Background
Melvin has the great honor of being the driver of the Interceptor, the Sentinel's ultra fast car used to arrest speeding criminals like Enzo or…um… In fact the car was designed specifically with Enzo in mind and that's more than enough work for Melvin, who's determined to put a stop to that handsome fellow from the Montana's.
Missions
Law of the Highway: Win 100 rounds with Melvin
Advantages & Disadvantages
Advantages:
His base power is 6, which is good for a 3*.
His ability takes away three damage from your opponent, which helps in case you are in danger of being KO'ed.
The minimum for his ability is two, which is low.
The clan bonus gives him an extra 8 attack, which helps in low-pill fights.
Disadvantages:
SoA diminishes his value a bit.
SoB also weakens him, since he has to rely on his base power.
He has competition from the other 3* in Sentinel.
He is quite expensive.
Trivia
Melvin is a loose reference to Mad Max who also drives a car called The Interceptor and wields a sawed-off shotgun as well. Also the actor that played Mad Max was Mel (Melvin) Gibson.
Card Artwork
LV 1.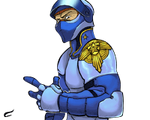 LV 2.
LV 3.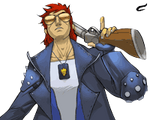 Full Artwork
Ad blocker interference detected!
Wikia is a free-to-use site that makes money from advertising. We have a modified experience for viewers using ad blockers

Wikia is not accessible if you've made further modifications. Remove the custom ad blocker rule(s) and the page will load as expected.