Background
Every time Lilith kills a rival agent, or one of Vryer's experiments fails, or Vladimir blows up the HQ of some enemy organization, Methane quickly arrives on the scene to remove the corpses and any incriminating remains. Crossing Methane's path can only mean two things, either you're already dead or you soon will be.
Web comic
He appeared in his second level as one of the GHEIST who came to get Sigmund's capsule in the comic, Assault Under Clint River, along with other members.
Missions
Vacuum Cleaner: Win 50 fights by finishing with a knock-out from Methane
Advantages & Disadvantages
Advantages:
His base power is 7, which is good for a 4*.
His base damage is 5, which is also good.
His ability increases his damage by two, making him a potential 7/7.
If you fury with him, while his ability is activated, he becomes a potential 7/9.
The clan bonus cancels out an opposing card's ability, which makes fights easier.
Disadvantages:
SoA takes away the chance to increase his damage.
Because of his ability and stats, he is almost always ELO-banned.
He is a 4*, so he takes up room in your deck.
He has competition from the other 4* in GHEIST.
Tactics
Methane is a beat stick the only tactic with him is to try and get the damage done.
Trivia
Card Artwork
LV 4.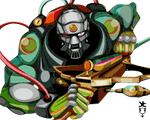 Full Artwork
Useful links
Ad blocker interference detected!
Wikia is a free-to-use site that makes money from advertising. We have a modified experience for viewers using ad blockers

Wikia is not accessible if you've made further modifications. Remove the custom ad blocker rule(s) and the page will load as expected.