Background
Miranda had been police superintendent of the districts north of the city long before joining Sentinel. With her electric eyes, austere uniform and severe expression, this upholder of the law is determined to enforce the rule of law and won't tolerate any bad behavior, even from her own clan.
Advantages & Disadvantages
Advantages:
Disadvantages:
Trivia
Card Artwork
LV 4.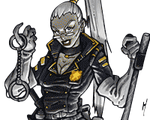 Full Artwork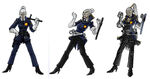 Ad blocker interference detected!
Wikia is a free-to-use site that makes money from advertising. We have a modified experience for viewers using ad blockers

Wikia is not accessible if you've made further modifications. Remove the custom ad blocker rule(s) and the page will load as expected.