<format> Sentinel</format>
       </data>
       <data source="ability">
           <label> Ability</label>
           <default>Unknown</default>
       </data>
       <data source="bonus">
           <label> Bonus</label>
           <default>+8 Attack</default>
       </data>
       <data source="rarity">
           <label>Rarity</label>
           <default>Unknown</default>
           <format>Rare</format>
       </data>
       <data source="gender">
           <label>Gender</label>
           <default>Unknown</default>
           <format> Female</format>
       </data>
   </group>
   <group>
       <header>5 Stars (

★★★★★

)</header>
       <data source="level1">
           <label>Stats Lv 1</label>
           <format>    </format>
       </data>
       <data source="level2">
           <label>Stats Lv 2</label>
           <format>    </format>
       </data>
       <data source="level3">
           <label>Stats Lv 3</label>
           <format> 5  4 </format>
       </data>
       <data source="level4">
           <label>Stats Lv 4</label>
           <format> 5  6 </format>
       </data>
       <data source="level5">
           <label>Stats Lv 5</label>
           <format> 5  8 (Gains Ability)</format>
       </data>
   </group>
   <group>
       <header>Meta Info</header>
       <data source="released">
           <label>Released</label>
           <default>Unknown</default>
       </data>
       <data source="retired">
           <label>Retired</label>
       </data>
       <data source="artist">
           <label>Artist</label>
           <default>Unknown</default>
       </data>
   </group>

</infobox>
Background
And the title of Miss Clint City 2007 goes to... Miss Chloe!! Elected unanimously, while on a secret mission, the sexy member of the Sentinel founds herself unwittingly in the spotlight. This unexpected fame has sparked off a major jealous streak in Havok who can't stand the thought that so many men are now fantasizing about his sweetheart.
Advantages & Disadvantages
Advantages:
Her base damage is 8, which is good for a 5*.
Her ability removes four damage from your opponent.
The minimum for her ability is two, which is low.
She is usable at level four, since she gets her ability then.
The clan bonus gives her an additional attack of 8, which helps in low-pill fights.
She is a lot cheaper than her counterpart.
Disadvantages:
Her base power is 5, which is really low for a 5*.
Her ability is mainly used for defense, so she can be very predictable at times.
She is weak against SOA, since she loses her ability.
Her main weakness are cards like: Jeena, Yookie and Bristone, who not only cancel out her ability, but also reduce her damage.
She is also weak against SOB.
She has competition from the other 5* in Sentinel.
She is a 5*, so she takes up room in your deck.
Strategy
Trivia
Miss Chloe is based off of the American film, Miss Congeneality, which is about a cop who is undercover as a beauty pageant contestant.
She was the first Miss Clint City card to be made.
Card Artwork
LV 3.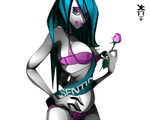 LV 4.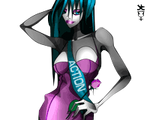 LV 5.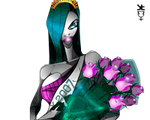 Full Artwork