Background
Mort Bax appeared out of thin air smack in the middle of the Montana clan headquarters. But this is nothing out of the ordinary for a professional magician. Hired on the spot to work nights at "Borgia's Palace", he quickly became indispensable to the clan. Mort Bax has more than one trick up his sleeve to attract or eliminate Montana's enemies.
Missions
Advantages & Disadvantages
Advantages:
Disadvantages:
Trivia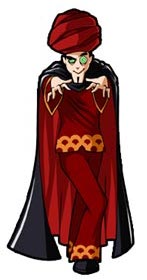 Fan Art
Card Artwork
LV 4.
Full Artwork
Ad blocker interference detected!
Wikia is a free-to-use site that makes money from advertising. We have a modified experience for viewers using ad blockers

Wikia is not accessible if you've made further modifications. Remove the custom ad blocker rule(s) and the page will load as expected.