Background
Some aliens do all they can to damage relations between earth and extra-terrestrial beings. They spread through the town making the residents' lives even more unbearable than they already are. Fortunately, with his inverted positronic flow machine, Murray can rid the town's inhabitants of these unwanted aliens (as well as a tidy sum of their cash) in next to no time.
Missions
Alienbusters: Win 100 rounds with Murray
Advantages & Disadvantages
Advantages:
Disadvantages:
Trivia
Card Artwork
Full Artwork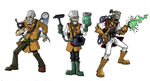 Ad blocker interference detected!
Wikia is a free-to-use site that makes money from advertising. We have a modified experience for viewers using ad blockers

Wikia is not accessible if you've made further modifications. Remove the custom ad blocker rule(s) and the page will load as expected.