Background
Dr N'Dololo's ancestors have passed their great powers down to him and he can help you improve your chances in love, at work or between the sheets. N'Dololo knows much about plants and talks to spirits. The Great Lobudimbo Wizard, N'Dololo helps the Roots because they're cool and because they're the only ones who'll let him.
Advantages & Disadvantages
Advantages:
Disadvantages:
Trivia
Card Artwork
LV 4.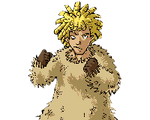 Full Artwork
Ad blocker interference detected!
Wikia is a free-to-use site that makes money from advertising. We have a modified experience for viewers using ad blockers

Wikia is not accessible if you've made further modifications. Remove the custom ad blocker rule(s) and the page will load as expected.