Background
The members of the Junta have the unique opportunity of benefitting from a totally innovative weapon's arsenal, designed and maintained by Naginata. Imaginative and a little bit ditzy, this pretty brunette is the proud inventor of weapons as compellingly original as the camcorder gunner, the plasma hair-dryer and the microwave rocket launcher...
Missions
Action Girl IV: Inflict 250 Damages with Naginata in survivor mode (needed to win Gertrud Rb.
Advantages & Disadvantages
Advantages:
8 Power is good for a 5*
if she wins she reduces opponents pillz by 5
With her bonus she has 7 damage

Disadvantages:
The min on her ability is 6 which is really high for a pillz manipulator
Without her bonus she has 5 damage which is poor for a 5*
She has competition from the other 5 in La Junta
Trivia
Her name comes from the Japanese weapon, 'naginata'.
The weaponry she creates is similar to the 2X4 Technology used by the protagonists of Codename: Kids Next Door.
Card Artwork
LV 5.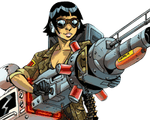 Full Artwork
Ad blocker interference detected!
Wikia is a free-to-use site that makes money from advertising. We have a modified experience for viewers using ad blockers

Wikia is not accessible if you've made further modifications. Remove the custom ad blocker rule(s) and the page will load as expected.