Naja Ld
Talk

0
1,734pages on
this wiki
Clan
La Junta
Ability
Power = Power Opp
Bonus
Damage +2
Rarity
Legendary
Released
March 2nd, 2012
Artist
Julien Carette
Stars
3
Stats Lv 1
2/1
Stats Lv 2
4/3
Stats Lv 3
5/5 (Gains Ability)
Background
Edit
There was nothing to indicate that Naja Ld would ever join La Junta. But when Dregn's troops invaded her hometown of Balgenheim, her father Amadaus sent her to seek reinforcements in Clint City. Under the guidance of Python, she developed real skills in fighting, strategy and leadership. The Vortex had better be on their guard!
She Who Shoots Before Asking Questions: Inflict 30 Damages with Naja Ld (04/01/2013 - 03/03/2013)
Advantages & Disadvantages
Edit
Advantages:
Her ability copies the base power of an opposing card, meaning she could have 8 base power.
Her ability, at times, can help in low-pill fights.
The clan bonus increases her damage by two, making her a potential 5/7.
If you fury with her while her bonus is active, her damage becomes 9.
Disadvantages:
Her base power is 5, which is low for a 3*.
She is weak against SOA, since she must stick with her low base power of 5.
Her ability can make her predictable, at times.
If used wrongly, her base power can end up being lower than it already is.
Her main weakness are cards like: Alexei, Striker and Platinum, who not only cancel out her ability, but also reduce her power.
She has competition from the other 3* in La Junta. And quite frankly, there are other good cards to use.
Her artwork is based off of Eva from Metal Gear Solid 3: Snake Eater.
Her name means 'cobra' in Old Indic, which makes sense as she is trained by Python.
In Italian, her name indicates the mandatory military service.
Card Artwork
Edit
Full Artwork
Edit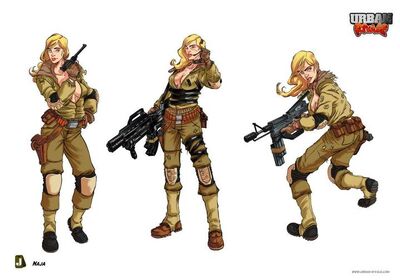 Left one: Lv 1
Right one: Lv 2
Center one: Lv 3