Background
When Nanook arrived back in her village from a polar bear hunt, everyone had been drowned – global warming had melted their igloos while they were asleep! Overcome with grief and rage, Nanook jumped on her snowboard and joined the Ulu Watu to avenge her kinsfolk. The Government had better watch it!
Advantages & Disadvantages
Advantages:
Her power is 8, and when combined with her bonus it becomes 10.
Her damage is 4 which can become 6 with fury, allowing you to 2HKO.
Disadvantages:
Trivia
In Inuit mythology, Nanook is the master of polar bears. In the Inuit language, Nanook means 'polar bear'.
Her name is also based off of the movie, Nanook of the North, a 1922 silent documentary film that tells the story of an Inuit eskimo named Nanook.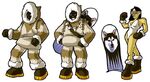 Fan art
Card Artwork
Full Artwork
Ad blocker interference detected!
Wikia is a free-to-use site that makes money from advertising. We have a modified experience for viewers using ad blockers

Wikia is not accessible if you've made further modifications. Remove the custom ad blocker rule(s) and the page will load as expected.