This is one of the packs in urban rivals that feature the last 35 cards that were recently released (including Miss and Noel cards). The play will get three chosen at random.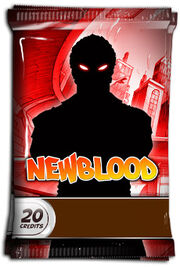 Since August 10th 2012 (following the introduction of New blood missions), the Newblood pack illustration change to each new characters release, but the illustration on it is always a Rare character.
Here comes the list of all the characters featured on the New blood pack (chronologically):
- Jean
- Lakit
- Fanny
- Lizbeth
- Hriger
- Thorpah
- Naele
- Lady
- Brianna
- Romana
-Rad
Ad blocker interference detected!
Wikia is a free-to-use site that makes money from advertising. We have a modified experience for viewers using ad blockers

Wikia is not accessible if you've made further modifications. Remove the custom ad blocker rule(s) and the page will load as expected.