Background
Ngrath can get hold of anything you need. And that means anything. Well, so long as what you're after is a weapon that shoots massive rays and is currently available in this galactic quadrant. This extra-terrestrial with a humanoid appearance has quickly become the last word in the ready-to-shoot market. But don't try and get him to drop his prices, unless you fancy ending up on the wrong side of his merchandise!!
Advantages & Disadvantages
Advantages:
He has a 7 power which is good.
His ability removes 3 life from his opponent. Coupled with his damage he's technically a 7/6 if played at the right time.
His bonus removes 8 attack from his opponent, making it easier to win with him.
Disadvantages:
His damage is 3, which is somewhat low.
His ability has a min of 4, which is a bit high.
Trivia
Card Artwork
LV 3.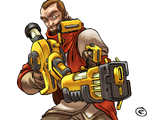 Full Artwork
Ad blocker interference detected!
Wikia is a free-to-use site that makes money from advertising. We have a modified experience for viewers using ad blockers

Wikia is not accessible if you've made further modifications. Remove the custom ad blocker rule(s) and the page will load as expected.