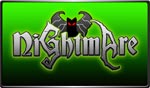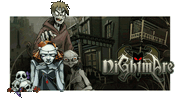 Like any other city, Clint City has its fair share of demons, vampires and other supernatural beings. Founded by Ielena, the Nightmare Clan's sole purpose is to give power to these creatures of the night.
Release Date
Nightmare were released on June 2006.
Trivia
Nightmare got its name because the members are all things that are scary to us, especially children.
The Nightmare's finishing animation has a wraith appearing from behind the Nightmare card. It then flies into the opponent's card, disposing the card, before flying up to the screen, scaring the player.
Their colors are black and grey.
Bonus
Stop Opp. Bonus
- The opponent's clan Bonus, if activated, is cancelled. If the opponent's clan Bonus is not activated, then the ability has no effect.
Advantages & Disadvantages
Advantages:
Their bonus prevents other clans from using their bonus, which makes fights with them a lot easier.
Many of the cards have very good base power.
Some of the cards have good abilities which give you life back or take them away from your opponent.
Some of the cards' abilities also involve damage manipulation.
They are excellent in both mono and half decks.
They are a good clan to use in ELO.
Disadvantages:
They rely heavily on their abilities, and though they stop the GHEIST and Roots' bonus, they are still weak against SoA.
Their bonus does nothing against Skeelz, who do not rely on their bonus a lot.
Some of the cards have low base damage.
Some of the cards are often banned from ELO, due to their abilities and bonus.
They cannot stop bonuses of the cards with ability of Protection: Bonus.
Members
Legendary
Mythic
Collector
Rare
Uncommon
Common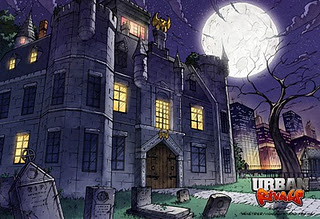 EXTRA ART
Useful Links
Ad blocker interference detected!
Wikia is a free-to-use site that makes money from advertising. We have a modified experience for viewers using ad blockers

Wikia is not accessible if you've made further modifications. Remove the custom ad blocker rule(s) and the page will load as expected.