Background
As a reward for protecting the manor from the burglars Kevin, Kamel, and Karl, Estalt decided to reward his three dogs by granting them immortality in his own special way - and divide the length of their nightly walks by 3. Kellin, Karamel, Karlos, the 3 elder brothers of the 3 unhappy burglars will just have to behave!
Involvement
Strategy
Quotes
Trivia
His final artwork makes reference to Ceberus, the three-headed guard dog of the Underworld.
He could also be a nod to Fenrir, the monstrous wolf in Norse mythology.
His stats are a complete recipercal to Estalt's.
Card Artwork
LV 5.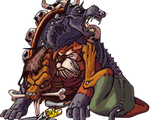 Full Artwork
External links
Ad blocker interference detected!
Wikia is a free-to-use site that makes money from advertising. We have a modified experience for viewers using ad blockers

Wikia is not accessible if you've made further modifications. Remove the custom ad blocker rule(s) and the page will load as expected.