Background
To help the Roots in their struggle, Ojibway has sculpted and painted a magic totem that combines the ideals of all the clan members as well as the suffering of each living being on the planet. The totem is made from 110 pounds of solid oak with very practical handles to knock out anyone who's not fully sympathetic to the cause.
Involvement
Strategy
Quotes
Trivia
Ojibway's name comes from the 'Ojibwe', a group of well-known Native-Americans whose spritual beliefs and rituals were important to them, because the spirits guided them through life, which also explains Ojibway's ability.
Card Artwork
LV 5.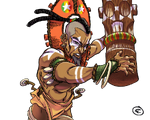 Full Artwork
External links
Ad blocker interference detected!
Wikia is a free-to-use site that makes money from advertising. We have a modified experience for viewers using ad blockers

Wikia is not accessible if you've made further modifications. Remove the custom ad blocker rule(s) and the page will load as expected.