<format> Jungo</format>
       </data>
       <data source="ability">
           <label> Ability</label>
           <default>Unknown</default>
       </data>
       <data source="bonus">
           <label> Bonus</label>
           <default>+2 Life</default>
       </data>
       <data source="rarity">
           <label>Rarity</label>
           <default>Unknown</default>
           <format>Uncommon</format>
       </data>
       <data source="gender">
           <label>Gender</label>
           <default>Unknown</default>
           <format> Male</format>
       </data>
   </group>
   <group>
       <header>5 Stars (

★★★★★

)</header>
       <data source="level1">
           <label>Stats Lv 1</label>
           <format>    </format>
       </data>
       <data source="level2">
           <label>Stats Lv 2</label>
           <format> 5  2 </format>
       </data>
       <data source="level3">
           <label>Stats Lv 3</label>
           <format> 6  2 </format>
       </data>
       <data source="level4">
           <label>Stats Lv 4</label>
           <format> 7  4 </format>
       </data>
       <data source="level5">
           <label>Stats Lv 5</label>
           <format> 8  6 (Gains Ability)</format>
       </data>
   </group>
   <group>
       <header>Meta Info</header>
       <data source="released">
           <label>Released</label>
           <default>Unknown</default>
       </data>
       <data source="retired">
           <label>Retired</label>
       </data>
       <data source="artist">
           <label>Artist</label>
           <default>Unknown</default>
       </data>
   </group>

</infobox>
Background
Armed with nothing but his courage and a pea-shooter, Ongh didn't think twice about being the first to stand up to the intruders wanting to chase the Jungo from the Zoo's ruins. This heroic act (and Chill's very "demonstrative" support) meant that he was chosen as Leader of the Jungo.
Missons
King of the Jungle: Inflict 300 Damages with Ongh.
Ongh's Heir: Win 1,000 fights with at least 2 Jungo.
Webcomic
In Jungo's premere webcomic, he and his clanmates surround Chloe, Havok and Tanner, giving them a fair warning to leave them in peace.
He also appears in "Kolos the Lost World" as a small child who picked on Kolos when they were in school. Granted, Kolos was telling a kiddie version of his past so it really didn't happen.
Advantages & Disadvantages
Advantages:
He has a high power of 8, which is good for a 5*.
His damage is 6, but becomes 8 when fury with him, allowing you to 2HKO with some of the other members of Jungo.
His ability takes away three power from your opponent, giving him an advantage over them.
SOB doesn't hurt him, since he will still reduce his opponent's power.
SOA also doesn't hurt him, since he will gain two life back after he wins.
The Jungo bonus gives him an extra two life after he wins.
Disadvantages:
He is a 5*, so he takes up a bit of room in your deck.
The minimum for his ability is 6, which is high.
He has competition from the other *5 in Jungo.
Trivia
He could be based off of Caesar from the movie, Planet of the Apes. Like Caesar, Ongh becomes the leader of the animals (the Jungo) and breaks out of human containment. The reference to Chill's demonstrative support harkens to the big ape's support of Caesar in the story, solidifying Caesar's role as leader of the apes. Coincidentally, Freaks member, Caesar, is also based off of the ape of the same name.
Ongh's name could be based off King Kong, because when you pronounce Ongh, it sounds exactly like Kong.
The reason he left Clint City is because he wanted to return back to his native rainforest where an old friend of his found a good spot for him.
He was one of the several clan leaders who went into Cr.
Card Artwork
LV 2.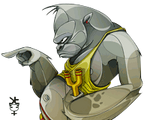 LV 5.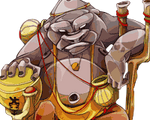 Full Artwork